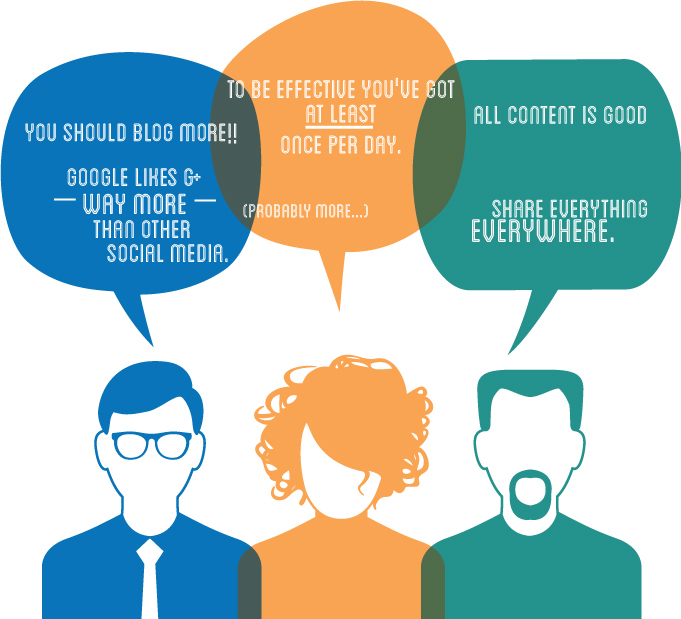 I thought about starting off this post with an introduction to content marketing, trying to convince you that this technique is one that absolutely deserves a place in your promotional arsenal in 2015.
But it turns out, that might not be necessary… According to research from the Content Marketing Institute, 90% of business-to-consumer companies use content marketing to build their brand and reach new customers. As their study shows, most of us are well aware by now that content marketing is one of the best ways for companies to reach today's customers.
That said, although we all know how important content marketing is, there are plenty of companies out there that still struggle to execute their content marketing strategy effectively. If you find yourself in this position, take the advice of some of the world's leading content marketing experts. The lessons they've shared will give your campaigns a much needed kick in the pants!
Determining Content Marketing Priorities
Every company is unique, meaning that the ideal marketing mix for that business's customers, products, services and competitors must be unique as well. As you determine what role content marketing should play in your overall promotional approach, consider the following pieces of wisdom from industry leaders:
Guy Kawaski – "Position yourself as an expert in your respective niche by sharing excellent content. The idea behind this is after building a reputation by providing great content you will have earned the right to promote your product when it's finally done."
Given consumers' increasing distrust of traditional outbound marketing approaches, content marketing should be a priority in your campaign from day one. Using these new inbound strategies gives your knowledge and authority, as demonstrated through the content you produce, a chance to shine. And when you differentiate your company using this approach, you'll find that your prospective customers are already primed and ready to buy.
Michael Brenner – "The biggest mistake is the 'unique point of view trap.' …Commit to differentiating yourself by how helpful your content is going to be, not what your voice is."
Having an original voice is great, but it's meaningless if the content you create using that voice doesn't satisfy your customers' needs. As Michael Brenner very astutely points out, brands need to demonstrate that their content is extremely valuable to visitors if they want to earn their trust and convert them to customers.
Kevan Lee – "You've probably heard the phrase: "Beyonce gets 24 hours in her day just like everyone else." The point is that we all get the same amount of time, and it's up to us to choose the best way to spend it. When I sit down to write, that is the only thing I do. No email. No Tumblr. No RSS reading for "research." No listening to music. I open a new browser window and write until I'm done."
We live in a world that is full of distractions, which makes it difficult to focus on the things that actually move the needle for our businesses. That's why Kevan Lee's advice that your content should be your only priority until it is completed is so important. Do everything in your power to avoid the temptation of the distractions around you – your to-do list will thank you for it!
Maximizing ROI from Content
Certainly, content marketing can be used to drive brand awareness or brand sentiment campaigns. But why stop there? To really get the most out your content campaigns, take the wisdom of the marketers shared below and use it to measure and improve the ROI of your promotions:
Brian Clark – "These days, people want to learn before they buy, be educated instead of pitched."
The value of loud sales pages is rapidly diminishing. Brian Clark warns that successful companies use content marketing to educate their customer, gradually luring them to a purchase rather than pitching to them. The best way to convert them is to communicate the benefits of your brand and your advantages over your competitors. And if your prospective customers don't realize that they need your product, invest the time to educate them about their need first.
Rebecca Lieb – "A content audit is the cornerstone of content strategy, which governs content marketing."
Your content always needs to reflect your brand goals and your desired public image. But as Rebecca Lieb states, these factors may evolve over time, making it critically important that you regularly review the content on your site to ensure it reflects your current goals. This is especially important if you have sales pages in place for products that your brand is no longer offering. These pages should be removed from your site entirely and replaced with content that suits your current product line.
Gerry McGovern – "Content is not the strategy – the task is."
According to Gerry McGovern, while many brands make content creation their priority, what they should really be focused on is engaging visitors and driving them to the brand's conversion funnels. Further, McGovern states that brands should remember that content is just a part of this overall strategy, and should be created with the company's ultimate goals in mind.
Executing a Consistent Strategy
Any business can put together a content marketing strategy, but few brands actually stick to their plans consistently. And guess what? If you don't follow your plan, there's no reason to have it in the first place! The two experts referenced below have shared some great tips on how to convey a consistent brand image through content marketing.
Bryan Eisenberg – "You must accept the reality that large swaths of your company's brand story are no longer in your control, and that isn't a bad thing.  You can write, plan, and tell the perfect brand story about how your products are relevant and how your company desires to be perceived — but any incongruence between your story and the actual customer experience will become fodder for public consumption."
In the not so distant past, companies had almost complete control of their brand. The age of social media has since given customers a powerful voice, which can drive the brand in new directions – whether or not that's the direction the brand would prefer to go. As Bryan Eisenberg says, it's imperative that brands recognize the influence of their customers and adapt their content marketing strategy to encompass the direction in which their customers are taking it.
Kristina Halvorson – "I think there are a lot of different ways that organisations can get around that, but the first part is leadership – it all comes from leadership – because leadership has to be courageous enough to empower one person or a small team of people to say 'NO'. Until you empower people to say 'No' to content requests or changes to site organisation or new taxonomies, it's not going to be aligned with other efforts.  Somebody's got to be able to say 'No'."
Is your brand suffering from having too many proverbial cooks in the kitchen? While developing and implementing a content marketing campaign usually requires multiple people, having too many voices – and too many decision-makers – can lead to an amorphous bureaucracy, which can conflate the brand's image. Every company needs to have a chain of command in which one person has the authority to oversee the content marketing strategy and veto decisions that could adversely affect the company's brand.
Promoting Your Content
Crafting even the most exceptional content is an exercise in futility if nobody ever views it, which is why you need a solid strategy in place to make sure that your content is seen. Fortunately, several of today's leading content marketing experts have shared their views on the subject:
Neil Patel – "If you can actually make your design way better or create content that's much more detailed and actionable, people take notice and are more likely to share and tell others about it."
Since so many brands are using content marketing techniques these days, going above and beyond competitors is essential. Neil Patel advises businesses to create more detailed and useful advice to benefit them. If you create something truly unique and memorable, the promotional side of the content marketing equation becomes much, much easier.
Ann Smarty – "Nowadays, it's not only risky to focus on certain keywords (remember the notorious over-optimization penalties?), but it's counterproductive: In the Hummingbird era, Google is trying to understand your content beyond keywords. It wants to understand "things (concepts) instead of strings (the exact sequence of words you type)."
Google drives over three quarters of online traffic, but the way it determines the destinations it sends these visitors to is changing. Taking this into account, Ann Smarty has shared some excellent advice in this post on the Content Marketing Institute regarding how to use keywords in your content strategy. Instead of focusing on a narrow set of target queries, craft content that serves your readers and makes your purpose clear to the search engines. Your wider approach will benefit your site in the long run.
Jayson Demers – "Over 80 percent of consumers now use smartphones to perform online searches, and the popularity of mobile searches is only going to increase as newer, more sophisticated devices enter the market and consumers grow accustomed to searching on the go. Taking advantage of this market share is going to be critical for online marketers in the coming years, and that means planning now for a mobile-friendly SEO campaign."
Jayson Demers acknowledges that consumers are using their mobile devices more and more, and that brands would be foolish not to optimize their websites for this mobile search demand. To help companies capitalize on this trend, Demers provides five actionable tips for mobile search on this post on Forbes – advice that any brand with an online presence would be wise to take into consideration.
Jeff Bullas – "So what is one content marketing tip that is worth gold?..It's placing images and even mini infographics into the Twitter stream so they are visible without clicking."
Finally, if you're looking for tips you can put into action today to improve your content promotion efforts, you won't go wrong with this tip from Jeff Bullas. Because images are becoming an ever more important element of content marketing. Bullas recommends putting these pictures in your Twitter stream in a way that they'll be seen immediately by viewers. Doing so will draw attention to your content and create exposure for your brand.
Evolving to Change
For better or worse, change is an inevitable force that every brand must adapt to. Preparing for change is even more important in the digital marketing landscape, which is why you'll want to follow the tips the following gurus have shared:
Lee Odden – "One of the main drivers shaping the future of content and content marketing will remain the channel-agnostic focus on target audiences with the "best answer" for what customers want (or content for what they like) in mind. And the customer journey remains the key driver in this context."
When the Internet became a widely used medium, many experts predicted that it would eventually render television obsolete. Television has, of course, proven its resiliency, but its use has changed as advertisers and producers have had to contend with its usage in conjunction with other devices. Lee Odden's wisdom points out that brands will need to use content marketing to simultaneously reach customers on multiple devices in order to play a part in the customer journey.
Joe Pulizzi – "Every business is different, but for many it's key to focus on four initiatives: Understand your audience, develop a documented content marketing strategy, create a subscription model, understand what is effective."
Joe Pulizzi has cited considerable research demonstrating why businesses must leverage content marketing to boost their ROI – especially as their competitors continue to raise the bar. Savvy brands will stand out by understanding the needs of their audience, creating a well-documented content marketing strategy and optimizing their subscription model to meet their customers' needs.
Eric Siu – "Content is a long-term game. If you don't have a way to drive sustainable engagement from your content pieces, you're losing money and risk falling behind to more savvy competitors."
In a guest post for Hubspot, agency owner Eric Siu points out that many brands are too eager to find quick fixes for their marketing needs, as in the case of cranking out articles with click-bait headlines. However, these strategies aren't sustainable. Instead of relying on "one trick wonders," develop a long-term model that provides real value to audience members and target customers.
Jay Baer – "Every interchange, every intersection that you have with a customer or prospective customer, anybody that you care about, should in fact be remarkable. That interaction should be worthy of remark. But we toss that word out just like it's nothing."
Raise your hand if you've ever come across a "Definitive" or "Ultimate" guide to something, only to walk away disappointed with the breadth of content covered. As Jay Baer of Convince and Convert points out, we've abused these words to the point where they're practically meaningless. How can you reclaim their power? Using them appropriately by delighting customers with content that lives up to the true definition of these words.
Learn from the Experts
Content marketing is an extraordinarily valuable way to build an audience, grow your brand and convert visitors into buyers. However, it's also a difficult strategy to execute properly.
Fortunately, these 17 experts have generously shared some great tidbits that can help you improve your content marketing strategy in the coming year. Start by applying just one of these pieces of wisdom, then come back for more ideas. Over time, their cumulative impact on your content marketing approach will be significant!
Have another great piece of wisdom you've seen about content marketing? Feel free to share further quotes in the comment section below!